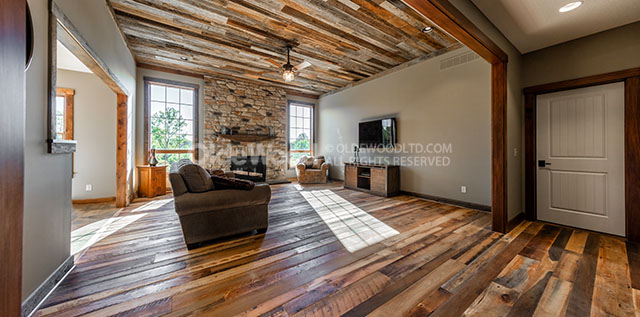 5 Gorgeous Ways to Include Reclaimed Wood in Your Home
Reclaimed wood offers an incredible story that's taken centuries to write. Some pieces may come from 18th & 19th-century barns. Others may come from warehouses and factories built during the Industrial Revolution. Because of its varying origins, reclaimed wood flooring exhibits characteristics that cannot be replicated and no two boards are alike. You can sometimes find exceptionally tight grain patterns, nail holes, weathered colors, saw marks or other stunning characteristics in these one-of-a-kind products.
You can create a space as unique as your taste with reclaimed wood. There are many ways to incorporate it in your home, from floor to ceiling. Our most recent project is a perfect example of this, as it uses reclaimed wood in five different ways.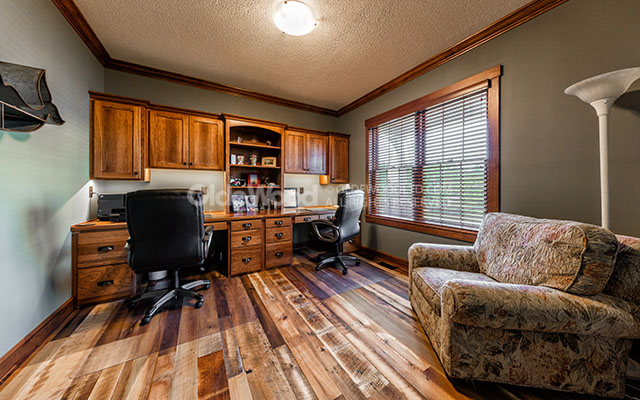 1. Wide Plank Flooring
Reclaimed wood offers a remarkable and durable wide plank flooring experience. It is often available in much wider widths and longer lengths than typical hardwood flooring. This home features our Reclaimed Antique Historic Plank wide plank flooring. Antique Historic Plank may contain a blend of original saw marks, mixtures of grain patterns, and light & dark boards. The widths of this product in this home were random 4" – 8". It's prefinished with a Natural Oil finish to amplify the natural tones of the wood.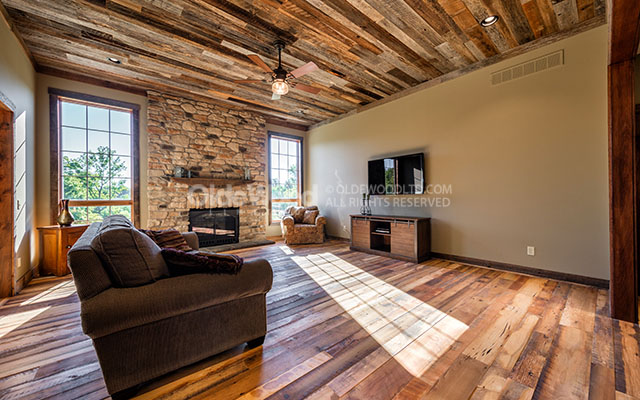 2. Reclaimed Wood For Ceilings
Reclaimed wood can also create stunning ceiling treatments. Authentic Reclaimed Barn Siding is a perfect solution for this application. Our Reclaimed Barn Siding comes from old barns and other wooden structures. Our craftsmen denail, hand-inspect, and kiln-dry the material to ensure it is of the highest quality. This home's ceiling treatment showcases Grey-Brown Barn Siding in random widths of 4" – 8". Grey-Brown Barn Siding renders a weathered patina from spending a lifetime withstanding the outside elements.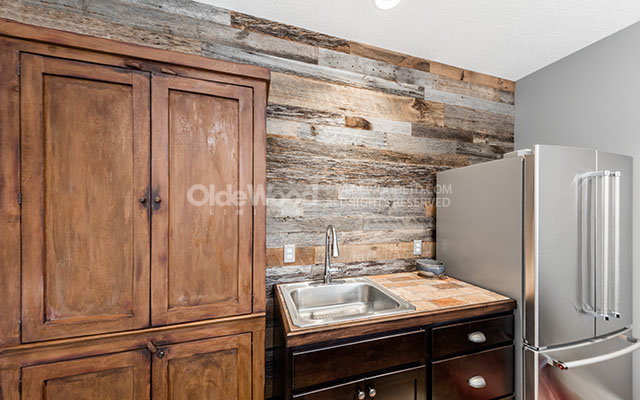 3. Reclaimed Wood for Walls
We weren't joking when we said reclaimed wood could be used for floors, ceilings and everything in between. If you are looking for a product with which to create an accent wall, using barn siding for wall treatments is a perfect solution. In this home, the theme of reclaimed wood continued from the main living area and office to the lower level kitchen. An accent wall of Grey-Brown Barn Siding, with its nail holes, deep grain texture, and weathered knots, transformed this space.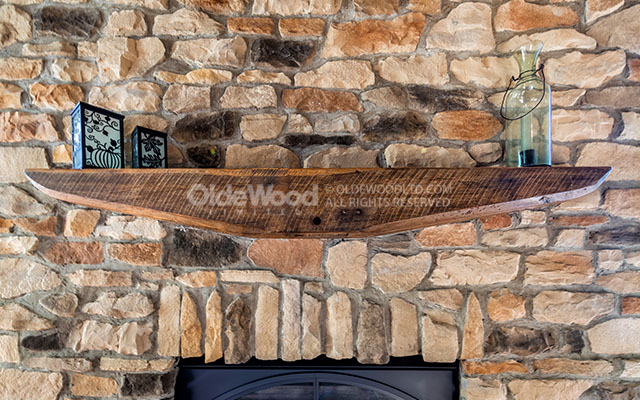 4. Fireplace Mantel
Reclaimed Fireplace Mantels are historic masterpieces of beauty and style. We craft our Fireplace Mantels from beams that supported old agricultural and industrial structures. Our Hand-Hewn Mantels feature original ax marks while our Rough Sawn Mantels offer a smoother surface. The characteristics and shape of this project's unique mantel make it a one-of-a-kind piece. It is extremely rare for mantels such as this one to be available. Our craftsmen applied an Oil Poly finish to the mantel to give it a slight sheen.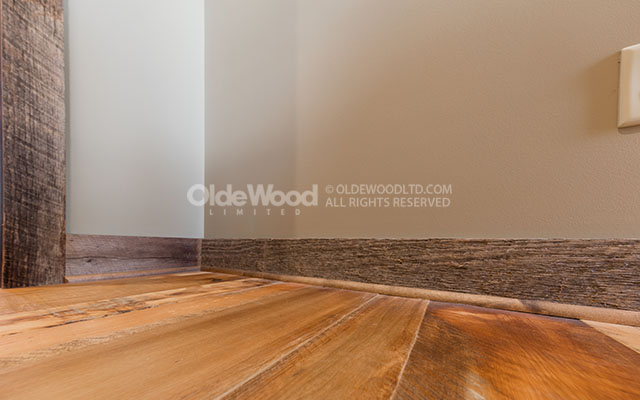 5. Reclaimed Trim & Baseboards
Even in the largest projects, the smallest details often make the biggest difference. The addition of Grey-Brown Barn siding window trim & baseboards completed the living room's design by complimenting the other reclaimed wood elements.
Reclaimed wood can be included in residential and commercial projects in many other ways, such as through beams, wooden vents, and stair systems. How have you used reclaimed wood in projects before? We would love to hear your stories in the comments below!