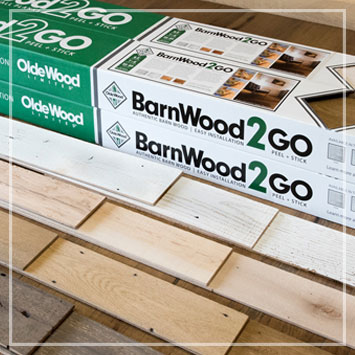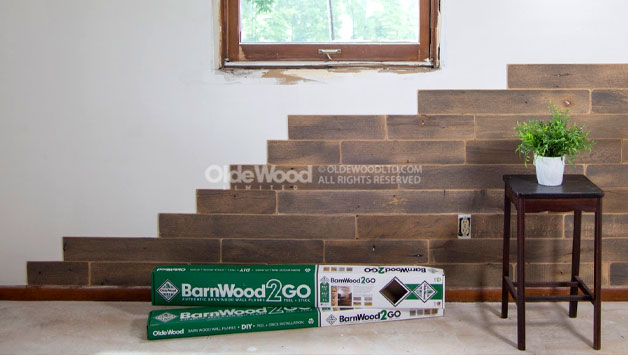 REAL BARN WOOD WALL PLANKS
---
DESCRIPTION
Barnwood2GO, is a do-it-yourself wall treatment kit featuring authentic and aged barn wood planks. Specially formulated peel-and-stick adhesive strips make the installation of this "do-it-yourself" product fast & easy – eliminating the need to hire, or wait for, a contractor. Within the time it takes to paint your interior wall, you can transform it into a unique and historical work of American art with Barnwood2GO.
Our barn wood is sourced directly from old, American wooden structures that have outlived their usefulness. These boards are kiln dried and precision-milled to ensure easy installation. Each board is unique in appearance and no two projects will look the same. This creates an unmatched level of quality and beauty that only true, reclaimed barn wood can offer. Barnwood2GO comes in several different hues that will blend with your decor needs.
Barnwood2GO is a product of Olde Wood Limited – the largest manufacturer of wide plank flooring in the country, with a specialty in reclaimed woods that has spanned decades. Our products are quality built with pride and we guarantee you'll love how they look in your home or office. Don't settle for look-a-like products of lesser quality or material. Do it right the first time with Olde Wood Limited's Barnwood2GO interior wall planks.
---
How Much to Order?
When ordering, calculate the square footage you need by multiplying the width X height of your intended installation area. For example a wall 10' wide & 15' tall = 150 square feet.
---
BARNWOOD2GO SPECIFICATIONS

WIDTHS: 4.5" -or- 5.5" (your choice)
LENGTHS: 1' to 4' (balanced mix)
THICKNESS: Nominal 4mm to 5mm
AVAILABLE FINISH: Naturally Weathered / Unfinished
STANDARD PREPARATION: Modern or Weathered-edge
INSTALLATION: 3M Adhesive strips

Authentic Barn Wood Planks with Easy, DIY Installation
Barnwood2GO is an easy, do-it-yourself way to add the natural beauty of authentic barn siding to your interior, without the need for nails, screws or messy adhesives. Installation is fast, easy and permanent.