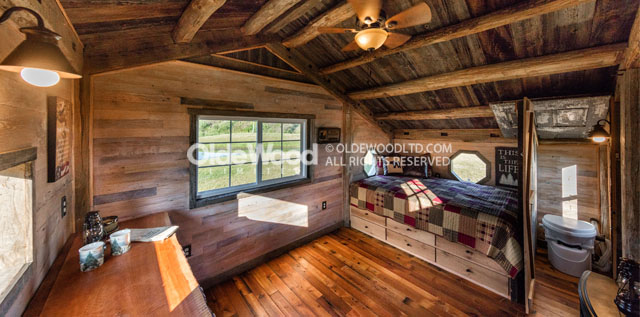 Introducing Primitive Tiny Homes by Olde Wood
As one of the nation's leading manufacturers of reclaimed building materials, we had a vision to expand our product line in innovative ways by joining the tiny home movement. Our team of timber frame experts and Amish carpenters created a primitive tiny home with an original handcrafted mortise & tenon frame using our reclaimed building materials.
With great care, we constructed our revolutionary Salt Box Primitive Tiny Home utilizing building techniques unique to the market. In the past, barns were the center of America's agrarian culture. These structures were supported by the strongest beams and built to last centuries. It is with this same ideology that we craft our Salt Box Primitive Tiny Home. We crafted the home's frame with 100% reclaimed wooden timbers & exterior grade, pressure treated timbers using a system of specified & hand-crafted cuts, joists, and mortise & tenons.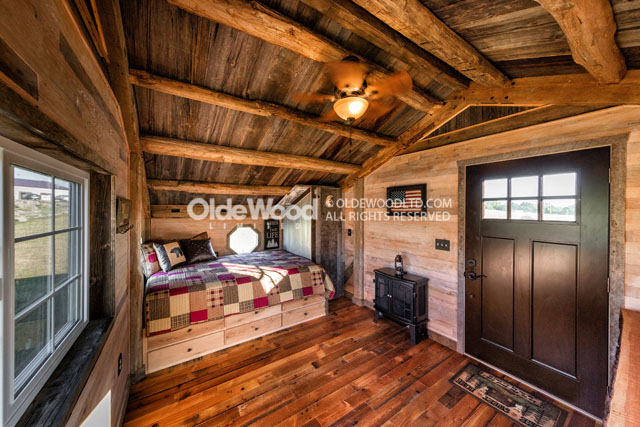 TIMBER FRAME DETAILS

The quality of our Salt Box Primitive Tiny Home starts with the hand-crafted moritse & tenon frame. The timber used at the base for strucutural support are pressure treated, exterior grade 8" x 8" timbers. Using pressure trated timbers ensures the home's base will hold up against the elements in most climates. Joists were hand-carved to fit the timbers together, and additional timbers were installed at angles in each corner of the base to increase the structure's stability. Through the center of the home, two hurricane poles strengthen the structure as well. These were welded to the base to ensure additional frame security. 100% reclaimed beams were used for the wall and ceiling frame. These beautiful beams have stood the test of time and their stunning features add to the Salt Box's primitive character. Finally, the material used for the base of the floor and walls is exterior grade 12-ply Russian Baltic Birch plywood - the best available plywood in the industry. Compared to the typical Oriented Standard Board (OSB) used in structures, the plywood handles moisture well, making it ideal for varying climates.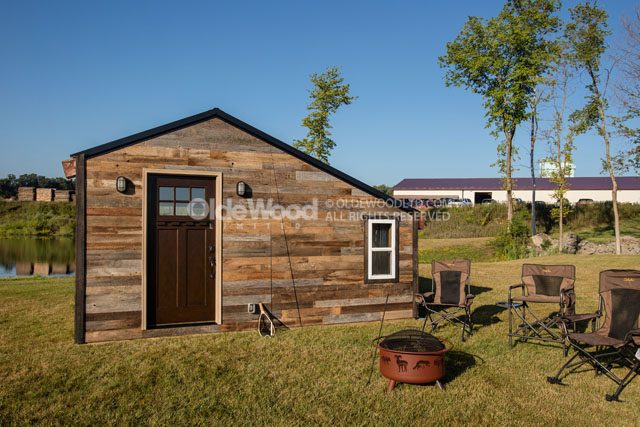 MORE INFORMATION COMING SOON

While this is the first model of our Primitive Tiny Homes, we hope to expand our selection in the future and have more information on sizes, customization, and pricing available. These primitive tiny homes can be used for a multitude of different purposes and the possibilities are endless! Please let us know in the comments below if you have any questions at this time. Thank you very much for your support as we start this new venture!
SEE WHAT THE PRESS IS SAYING
"Tiny House Jamboree Making Big Moves for Sustainable Living" from News Channel 13 in Colorado Springs, CO