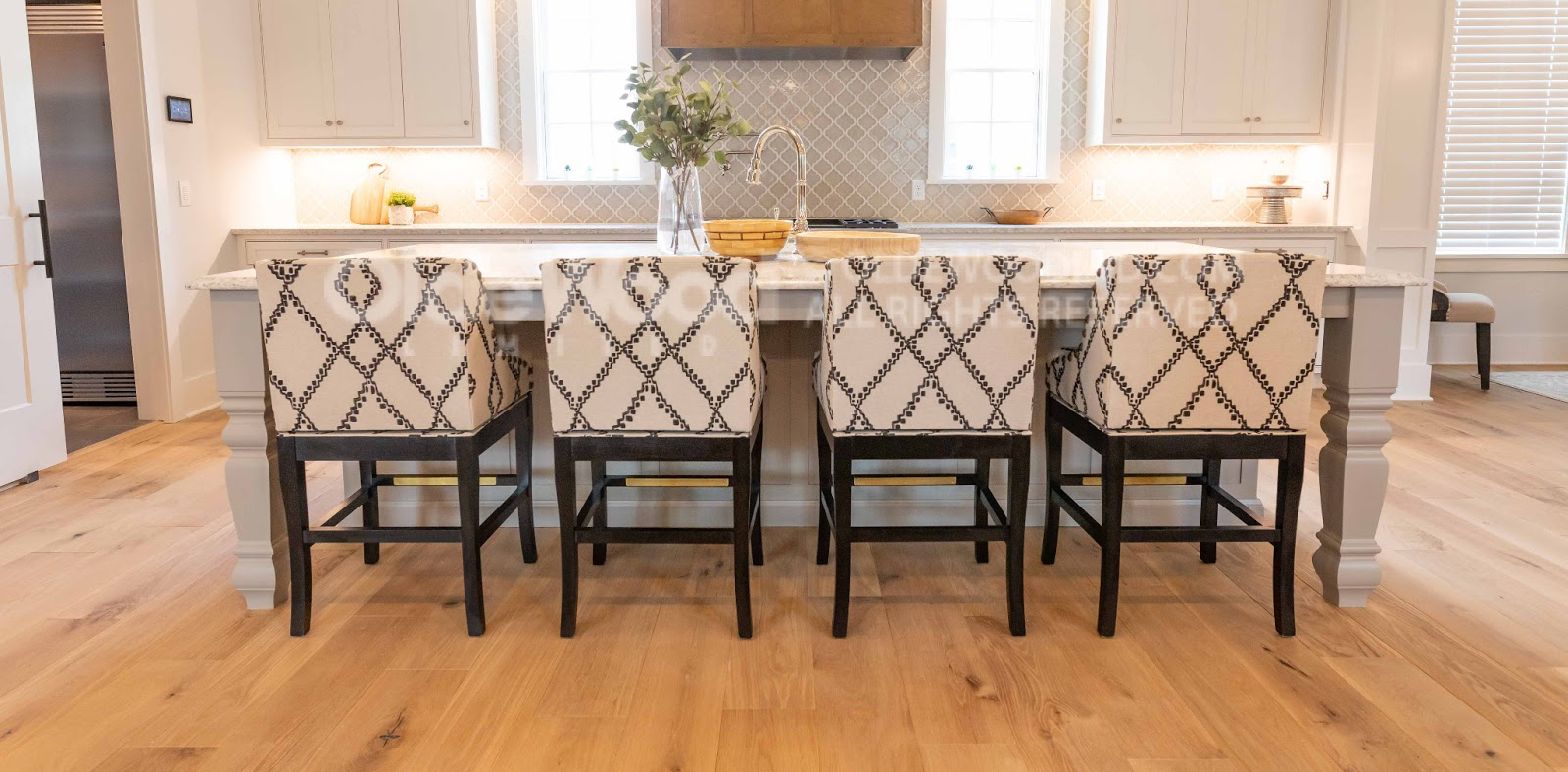 Our Top Picks for Wood Floors in the Kitchen
The kitchen is the heart of every home and what better way to showcase such a space with our custom wide plank hardwood floors. Whether you choose our reclaimed hardwood or traditionally milled hardwood floors, there is no wrong choice.
Olde Wood Antique Reclaimed Oak - Custom Finish
The mighty Oak is as much a part of Americana as the barn itself. Meticulously curated from the reclaimed joists, rafters, granary boards, siding and floor-boards of old barns and other historic wooden structures, reclaimed Antique Oak flooring presents the most complete reclaimed oak experience by showcasing the many patinas and colorations the fabled timber developed in its various structural uses.
Antique Reclaimed Tobacco Pine
Tobacco-stained pine hardwood flooring creates a unique, "old pine" appearance with deep, rich shades of brown and red intermingled with the wood's original honey color. This dark, naturally weathered look will help you add warmth and charm to a more rustic décor
As with any reclaimed pine, tobacco pine hardwood flooring features sound knots, cracks, nail holes, wormholes, saw kerfs and watermarks.
Cut from select and fully mature trees, this slow-growth wood will create beauty and charm in any room of your home. White oak wide plank flooring is popular and stands the test of time.
Traditional Plank Pioneer Cherry
To create our rustic, Pioneer Cherry we run our cherry hardwood planks through an antique, 60-in. saw blade to replicate the rustic look of early milling. With stunning red-brown tones, accented by pale brown and pink sapwood, this cherry wood flooring will lend itself perfectly to any room where you want to create a traditionally aged, yet elegant atmosphere.
Regardless of which hardwood floor you choose for your home, you can trust that we combine the milling practices of yesterday with the technology of today to give you the hardwood experience you've been looking for.