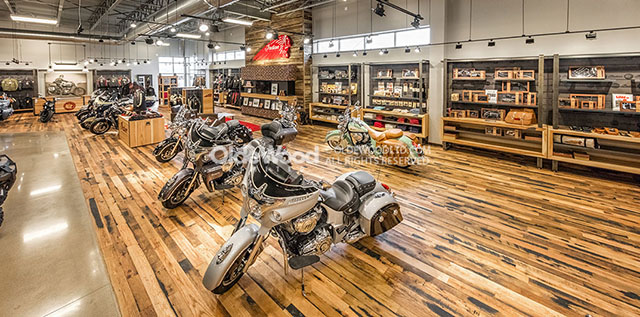 Project Spotlight - Bair's Powersports
When Bair's Powersports decided to open a new 10,000 square foot showroom in Canton, Ohio to display their selection of the best Indian Motorcycles, Victory Motorcycles, and Polaris vehicles, they knew the space's design - even down to the flooring - needed to accentuate the bold characteristics of their products.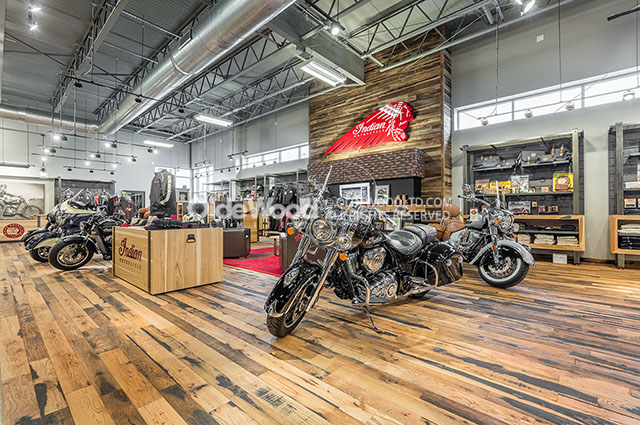 They decided the Stallion Plank reclaimed flooring with a UV Natural Oil prefinish by Olde Wood Ltd. with its unbridled beauty and appeal was the perfect floor for the job.
The Stallion Plank presents a hardwood flooring experience like no other. It pays homage to one of America's greatest symbols of strength, freedom, and pioneer perseverance and captures the feelings one may have while cruising down the open road on a motorcycle.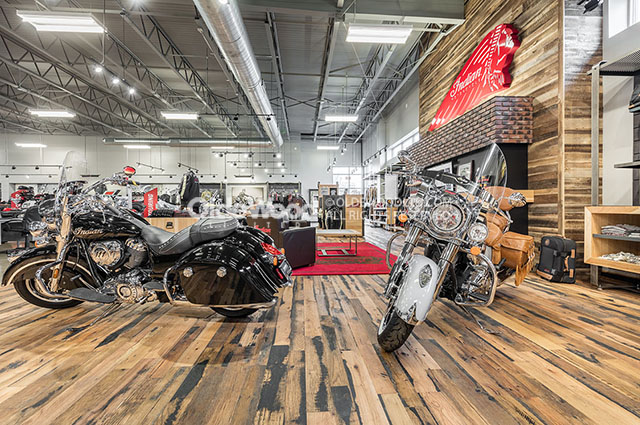 The planks are available in random widths of 4" to 5" and random lengths of 1' to 8', and each board has its own story to tell. The Stallion Plank may feature unique characteristics such as distressed surfaces, original nail holes, and variations of colors and grain patterns.
Matching baseboards of the Stallion Plank were created as well to ensure the floor's beauty remained cohesive through the smallest details.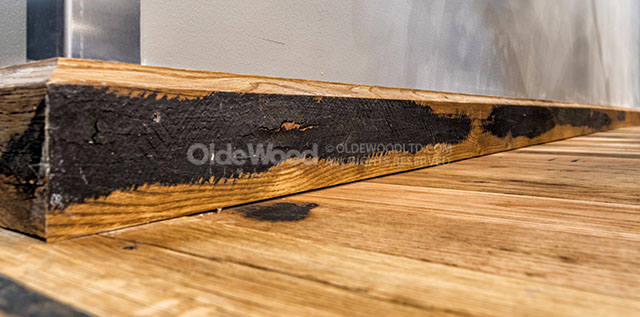 Bair's Powersports also used reclaimed barn siding to design a show-stopping floor-to-ceiling hearth. The twenty-foot display was created with authentic Interior Brown barn siding, a product that is milled to utilize the side of the barn boards that were inside the agricultural structures and protected from the elements, giving it a more uniform appearance.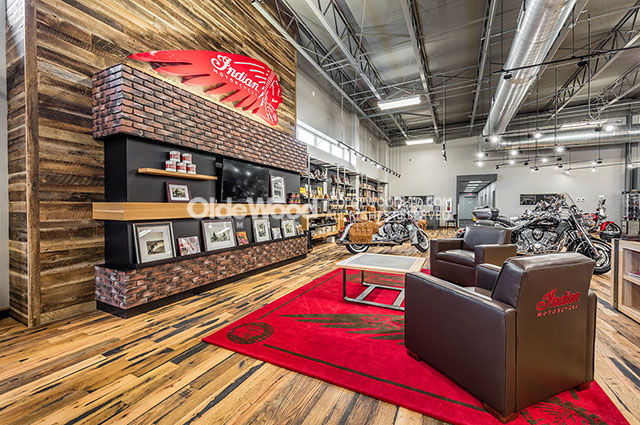 More images from the project can be seen in the Stallion Plank photo gallery. If you would like to learn how Olde Wood can transform your commercial (or residential) space, give us a call at 866-208-9663 and one of our Design Specialists would love to talk "wood" with you!