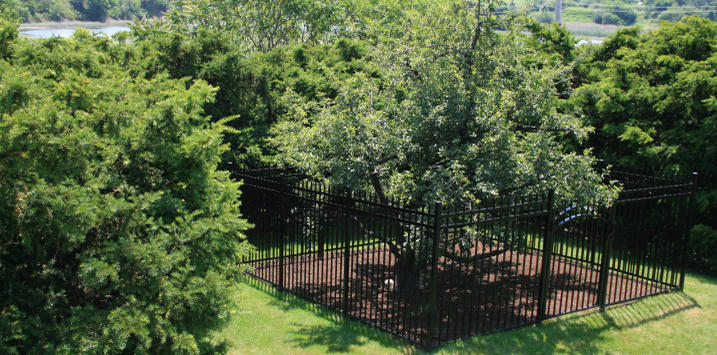 The Endicott Pear Tree
Planted between the years 1632 and 1649, and declared a National Monument of The United States in 2011. That's right. The Endicott Pear Tree has held its roots now for close to 400 years! What rich history must be grown into its bark? What stories could this tree tell us?
This tree began its journey as just a sapling crossing the Atlantic Ocean on the Arbella in June of 1630 with hopes of finding a place to plant its roots. Similar to those who set sail with hopes of finding new dreams and hope in the Massachusetts Bay Colony. Once arriving, it was planted by John Endecott, the governor of the Massachusetts Bay Colony. "I hope the tree will love the soil of the old world and no doubt when we have gone the tree will still be alive" he declared in front of his children and farm workers. With that, this trees history began to grow.
Rev. William Bentley, having visited Endicotts Estate numerous times, took notice of the tree's abundant supply of pears. In September of 1809, Bentley passed along some of it's pears to former President John Adams. Being moved enough by it's history at that point, the former president sent Bentley a letter concerning the tree after a hurricane struck the surrounding area. Bentley then visited the Endicott Estate to collect twigs from the pear tree to send to President John Adams. By 1875 the tree stood almost 80 foot tall!
The tree only continued to prove its mighty strength and perseverance when it survived a vandal attack on July 27, 1964. In fact, it was able to grow still after its branches were cut as well as 6 foot of its trunk. The tree still stands today, bearing fruit. You can find it off the corner of a parking lot that belongs to a hospital, hidden among suburbs and industry.
So how in fact does a tree stand firm in its roots for almost 400 years? A mystery mother nature will keep secret. Harnessing such rich history in wood is something our team takes pride in through our Reclaimed Antique Flooring, as there is something surreal about walking upon history in your own home.
image credit - https://landscapenotes.com/2012/06/25/the-endicott-pear-americas-oldest-cultivated-tree/