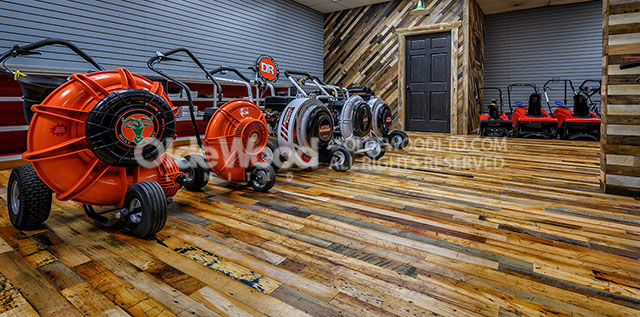 The Story Behind Antique Factory Plank
As the nation moved from an agricultural focus to an industrial focus in the 19th century, the country gained lots of manufacturing power. Mills and factories were rapidly built to keep up with society's demands– and each one needed a floor.
The flooring material needed to be readily available and sturdy enough to withstand heavy, daily use. Often times, the builders turned to Maple planks to do the job since the timber was common in the Midwestern and Eastern United States.
With the amount of foot-traffic the factories experienced, the floors needed to be replaced frequently. However, it was costly to shut the factories down in order to tear out the old floor and install a new one.
To solve this dilemma, the process was cut in half. Instead of tearing out the old floor, it was left alone and a new floor was installed right on top of it.
Today, these factory floors can be reclaimed to preserve this piece of America's story. Each board retains a nostalgic blend of original wear marks and a warm patina, and may contain characteristics such as nail holes and wild grain patterns. Antique Factory Plank hardwood flooring proudly displays America's heritage of hard work and integrity and adds a historic element to any project.