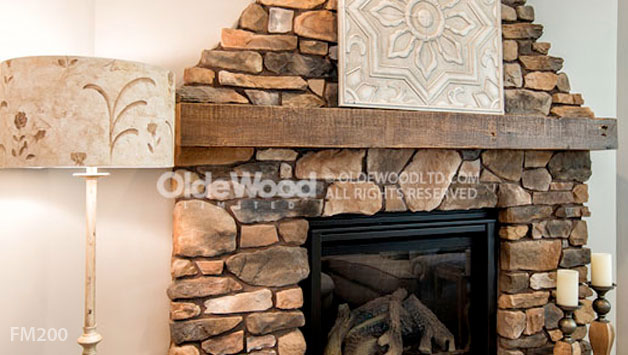 DESCRIPTION
Shaped by pioneer-age saw mills long ago, these mantels bear the saw-marks of an age when there were no power tools. Defected, denailed, and kiln dried, these age-old timbers precut to your specified length and finished with your specified shade of finish. Call now to get started!
Looking for a more rustic finish? Consider our hand hewn mantels instead. Hand-hewn mantels bear the axe marks of craftsmen who cut the original beams by hand with axe and adze.
---
BUY ONLINE: Add a Rough Sawn Mantel to your cart HERE
To add a rough sawn mantel beam to your cart, click the link above to acknowledge that you accept the Terms and Conditions of Sale. Then, a green "Add to Cart" button will appear. Click the green button to add the mantel to your cart, specify your custom options, and checkout.
BUY BY PHONE: Call Olde Wood Limited at 1-866-208-9663
---
RECLAIMED FIREPLACE MANTEL SPECS

FACE WIDTHS: 4"x7", 6"x6", 6"x8", 7"x7", 8"x8", 9"x9", 8"x10", 10"x10", 10"x12", 11"x11" – (call for in-stock sizes & availability)
LENGTHS: Custom cut, please call
AVAILABLE FINISH: Natural/Unfinished, Pre-finished
FEATURES: Original Sawn Marks, Flat One Side, Insect Holes, Structural Notches, Virgin-Timber Grain
Length & Width Variance: It is necessary for us to include material overage to ensure the desired length is shipped. When this happens, the extra material will be shipped in-tact and charged accordingly.
Kiln Drying: We are able to kiln dry timbers up to 20' in length.


---

BEAM + MANTEL SHAPES
How do I buy a rough wood mantel from Olde Wood?

You can buy rough cut mantels online by viewing our inventory of reclaimed beamsof reclaimed beams. Simply select your desired finish and mantel length, click the Terms & Conditions box, and add the mantel to your shopping cart. If you're in Ohio, you can also visit our showroom and manufacturing facility in Magnolia, Ohio. Located 15 miles south of Canton, our facility is the perfect place to see our entire portfolio of reclaimed wood products.

What colors are available for rough wood mantels?

These rustic fireplace mantels are available in custom finishes tailored to your desires. We can blend finishes to find the perfect color for your rough cut mantel. Our rustic pine and golden oak mantel finishes are popular for a lighter finish, while our mahogany, teak, and Tudor brown finishes add warmth to your mantel. Our design specialists can help you design the perfect finish for your rough sawn mantel.

How long will it take to ship my fireplace mantel?

Lead time for custom fireplace mantels can vary. Please understand that lead times are based on scheduling and are subject to change due to orders received. Mantels purchased without a custom finish or length can typically ship in 2 business days. Mantels purchased with a custom length and/or color can typically ship in up to 1 week.

How is my fireplace mantel shipped?

Rough wood mantel beams are typically shipped via common carrier. Carriers require a contact name and contact number. The customer is responsible for unloading all material from the back of the delivery truck to the designated staging area. Material is commonly packaged for forklift unloading. However, they may be hand unloaded if the mantel size permits.

Mantels can also be picked up at our showroom at 7557 Willowdale St., Magnolia, Ohio 44643.